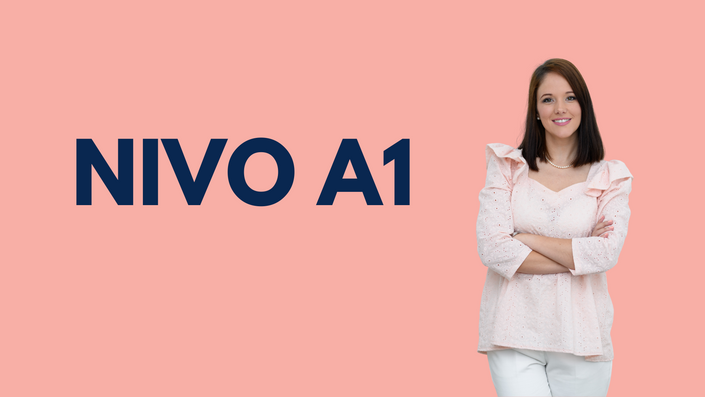 Nemački A1
Početni kurs nemačkog A1
Posle početnog nivoa ćeš već moći da pričaš na nemačkom.
Neverovatno, ali istinito :)
Želiš odmah da saznaš po čemu je ovaj kurs vredan tvog vremena i novca?
Ovo je jedini kurs na svetu koji te od prve lekcije uči da koristiš jezik bez bubanja gramatike.
Kako je to moguće?

Ja sam Ivana, vlasnica i profesorka u Mogi školi stranih jezika. Prošlo je 8+ godina od kada smo napravili inovativnu, savremenu metodu za učenje nemačkog jezika koja se bazira na tome da jezik koristimo odmah uz pomoć tehnika učenja i lakšeg pamćenja.
Jedna od njih su i mape uma i mapa fraza koje nam pomažu da brzo i trajno zapamtimo nove reči i gramatiku, a uz to i da se zabavimo.
Misliš da u učenju nemačkog nema ničeg zabavnog?
Verujem ti, jer ti niko nije pokazao drugačiji način.
Sada imaš priliku da učiš po najsavremenijoj metodi za učenje nemačkog jezika i to kada ti možeš i koliko ti možeš.
Pristup imaš 24/7 ZAUVEK!
Moj princip učenja je zasnovan na tome da sve objasnim što je kraće moguće pa ću se toga držati i ovde i umesto da ti pišem šta sve imaš na kursu, pokazaću ti ovde ispod. Možeš da pogledaš sve od čega se kurs sastoji, a druga lekcija kursa ti je potpuno otključana i možeš da je pregledaš celu da proceniš da li je ovo pravi kurs za tebe.
Vidimo se na kursu :)
Sadržaj kursa
Uvod
Available in days
days after you enroll
Begrüßen
Available in days
days after you enroll
sich vorstellen
Available in days
days after you enroll